WATCH: BREAKING WORLD WAR III NEWS: Some Believe CHINA and RUSSIA Want to Take Advantage of the Worse Attack on the ISRAELITE PEOPLE Since the HOLOCAUST, Which Has Caused the Horrifying Crisis in the Middle East, to Gain the Advantage Over the U.S. and the West.
Daniel Whyte III, President of G.L.S. International, says in light of what is going on in the world right now, "born-again-saved" people need to humble themselves, pray, seek God's face, turn from their wicked ways, and return to their first love–the Lord Jesus Christ. Irreligious people need to believe in the Lord Jesus Christ and be saved from the wrath of God and the eternal burning hell so they can go to Heaven when they die. Whyte says to President Biden, while you are saying you have the back of Benjamin Netanyahu and the Israelites, make sure you keep a good eye on the back of the U.S. because God is not pleased with the behavior of the Church that has colluded with the government to sanction the abomination of sodomy/homosexuality in this country, not to mention the sins that the Church, the government, and the U.S. were committing before that. Whyte calls on Biden and Netanyahu to do as President Franklin Delano Roosevelt did. He did not call on a prominent pastor to pray publicly for one of the most pivotal days in world history, the D-Day Invasion; he prayed publicly himself to God Almighty, and God Almighty heard his prayer. Whyte tells Biden and Netanyahu, you too, are facing pivotal days and perilous times, and you both need to start praying publicly and to hell with "liberal democracy" run amok. Here is Franklin Delano Roosevelt's mighty prayer to God: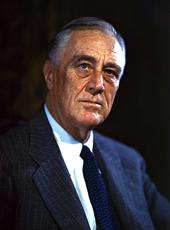 My fellow Americans: Last night, when I spoke with you about the fall of Rome, I knew at that moment that troops of the United States and our allies were crossing the Channel in another and greater operation. It has come to pass with success thus far.
And so, in this poignant hour, I ask you to join with me in prayer:
Almighty God: Our sons, pride of our Nation, this day have set upon a mighty endeavor, a struggle to preserve our Republic, our religion, and our civilization, and to set free a suffering humanity.
Lead them straight and true; give strength to their arms, stoutness to their hearts, steadfastness in their faith.
They will need Thy blessings. Their road will be long and hard. For the enemy is strong. He may hurl back our forces. Success may not come with rushing speed, but we shall return again and again; and we know that by Thy grace, and by the righteousness of our cause, our sons will triumph.
They will be sore tried, by night and by day, without rest-until the victory is won. The darkness will be rent by noise and flame. Men's souls will be shaken with the violences of war.
For these men are lately drawn from the ways of peace. They fight not for the lust of conquest. They fight to end conquest. They fight to liberate. They fight to let justice arise, and tolerance and good will among all Thy people. They yearn but for the end of battle, for their return to the haven of home.
Some will never return. Embrace these, Father, and receive them, Thy heroic servants, into Thy kingdom.
And for us at home – fathers, mothers, children, wives, sisters, and brothers of brave men overseas – whose thoughts and prayers are ever with them – help us, Almighty God, to rededicate ourselves in renewed faith in Thee in this hour of great sacrifice.
Many people have urged that I call the Nation into a single day of special prayer. But because the road is long and the desire is great, I ask that our people devote themselves in a continuance of prayer. As we rise to each new day, and again when each day is spent, let words of prayer be on our lips, invoking Thy help to our efforts.
Give us strength, too – strength in our daily tasks, to redouble the contributions we make in the physical and the material support of our armed forces.
And let our hearts be stout, to wait out the long travail, to bear sorrows that may come, to impart our courage unto our sons wheresoever they may be.
And, O Lord, give us Faith. Give us Faith in Thee; Faith in our sons; Faith in each other; Faith in our united crusade. Let not the keenness of our spirit ever be dulled. Let not the impacts of temporary events, of temporal matters of but fleeting moment let not these deter us in our unconquerable purpose.
With Thy blessing, we shall prevail over the unholy forces of our enemy. Help us to conquer the apostles of greed and racial arrogancies. Lead us to the saving of our country, and with our sister Nations into a world unity that will spell a sure peace a peace invulnerable to the schemings of unworthy men. And a peace that will let all of men live in freedom, reaping the just rewards of their honest toil.
Thy will be done, Almighty God.
Amen.
Since Russia invaded Ukraine, the United States has sought to isolate Moscow and pressure China to keep its distance. With war in the Middle East, Russia and China are seeking to turn the tables.
The United States has cast Russia as the disruptor of the international order at the Security Council, with President Joe Biden promising the world body that Washington would use its veto only sparingly.
But the United States went ahead and vetoed a draft resolution last week it deemed insufficiently supportive of its ally.
In comments likely aimed at consumption in the Islamic world, Russia has accused the United States of escalating the conflict through military reinforcements, while China has lashed out at the US veto and Israel's actions.
The Chinese and Russian reprimands ring hollow for US officials, who doubt the rival powers will engage in painstaking diplomacy along the lines of Secretary of State Antony Blinken's recent trip to the region.
But the United States has historically stood out as a lonely voice in its close embrace of Israel, even if for now European allies are largely joining Biden in backing Israel.
Biden on taking office had aimed to shift from the complexities of the Middle East, seeing China as the greatest long-term challenge to the United States.
"This is not a region where the US has wanted to have a heavy footprint and be actively engaged. At the same time, this president in particular is deeply committed to Israel," said Leslie Vinjamuri, director of the US and Americas program at Chatham House.
China "is quite willing to see the US pulled sideways in its strategic focus into a region that it hasn't wanted to be absorbed by, but now is willingly," she said.
– Shift of focus for Russia –
Hamas militants stormed into Israel on October 7, killing at least 1,400 people, mostly civilians, including inside homes and at a music festival, and taking more than 220 hostages, according to Israeli officials.
More than 5,700 Palestinians, also mostly civilians, have been killed across the Gaza Strip in retaliatory Israeli bombardments, the territory's Hamas-run health ministry said.
The Hamas assault came 50 years after a sneak attack by Egypt and Syria on Israel on the Jewish holiday of Yom Kippur. The two events have drawn parallels but among differences — Russia was then a major player that backed the Arab states.
Russia returned in force in 2015 to Syria to back Bashar al-Assad, although Russian President Vladimir Putin has also maintained ties with Israel.
"Nobody is expecting Russia to produce any results here — any kind of ceasefire or any role in trying to negotiate the release of hostages," said Eugene Rumer, director of the Russia and Eurasia program at the Carnegie Endowment for International Peace.
"Since 2022, it has all been about Ukraine, so when this tragedy occurred, it was a gift for Putin because suddenly the attention is diverted away," Rumer said.
Biden has tried to link Putin and Hamas, charging in an Oval Office address last week that both were "tyrants" seeking to "completely annihilate a neighboring democracy."
Russia denounced the remarks. At the Security Council on Tuesday, Russian envoy Vassily Nebenzia accused the United States of failing to respond to global demands for a full ceasefire.
– China scores points –
China and the United States have both sought diplomatic advantage in the crisis, including through a call between Blinken and Chinese Foreign Minister Wang Yi.
The United States has repeatedly pressed China to play a greater role in the Middle East crisis commensurate with its global aspirations and urged it to use its influence over Iran's clerical rulers, who back Hamas.
Beijing has sent an envoy to the region who has highlighted support for the Palestinian cause.
Jonathan Fulton, an expert at the Atlantic Council on China's role in the Middle East, said that Beijing in its messaging saw the crisis "as an opportunity to score points on the US."
He said China likely hoped in turn to win support in the Arab and Islamic world for its priorities — sidelining Taiwan, the self-governing democracy claimed by Beijing, and rejecting US-backed allegations that Beijing is committing genocide against Uyghur Muslims.
But Fulton said that Beijing's foremost interest in the Middle East remained economic, with the world's second largest economy heavily dependent on imported oil.
Source:yahoo news
To read more, click here: https://news.yahoo.com/mideast-crisis-russia-china-hope-013730634.html
The post WATCH: BREAKING WORLD WAR III NEWS: Some Believe CHINA and RUSSIA Want to Take Advantage of the Worse Attack on the ISRAELITE PEOPLE Since the HOLOCAUST, Which Has Caused the Horrifying Crisis in the Middle East, to Gain the Advantage Over the U.S. and the West. appeared first on BCNN1 – Black Christian News Network.